CastleLite Difference
What makes CastleLite pavers different from other pavers?
Factory Direct

– We are the only manufacturer in Northern California selling direct to the consumer. This will save you money. We serve San Jose, Reno, and surrounding areas.


Quality Control

– We manufacture our pavers in small batches to control the quality of the paver and the color blend consistency

Through Mix

– All of our concrete pavers have color mixed throughout the paver, while our competitor's cover an inferior product with a colored coating.

Curing

– All of our pavers are moisture cured in temperature regulated kilns for even curing

Fleet Delivery

– To ensure timely delivery, we deliver over 90% of our products with our own truck fleet.
____________________________________________________________
What is Factory Direct?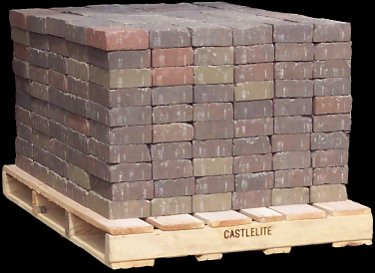 CastleLite Block is unique from other manufacturers of these building products in Northern California because we offer all of our products direct from our factory to the consumer. Buying Factory Direct means you're dealing direct with the manufacturer. By establishing a Factory Direct relationship with CastleLite, you know you are getting the best possible price and service.
Buying Factory Direct ensures that all of your questions and needs are addressed by a qualified representative that knows first hand the entire process from manufacturing, delivery and installation of your pavers.
Since we are the manufacturer and we deliver over 90% of our products with our own fleet delivery service, we can respond to your needs quickly. This ensures that your landscaping projects start on time.
We believe that cleaning up at the end of a project is as important as starting the project on time. Everything on a project can go smoothly, but if no one removes the unused pavers and empty pallets after the project is complete, then the good you built up with the customer is gone. This can also impact any future references from this customer.
At CastleLite Block we make concrete pavers affordable for your patio, sidewalk or other landscaping project.
____________________________________________________________
How We Manufacture Our Pavers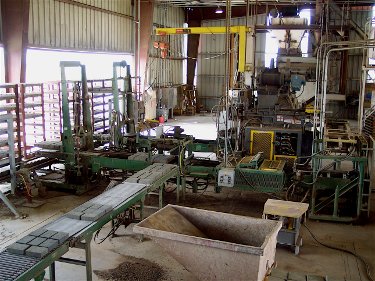 CastleLite Block manufactures many different shapes, sizes and colors of concrete pavers. With the numerous patterns available, it allows the customer to make their project unique from any other project.
Our interlocking concrete pavers are manufactured in accordance with ICPI specifications. Our 13 Acre state of the art facility has two independent production lines with new manufacturing equipment, paver molds and kilns to ensure that our products are produced with consistency and quality that you expect.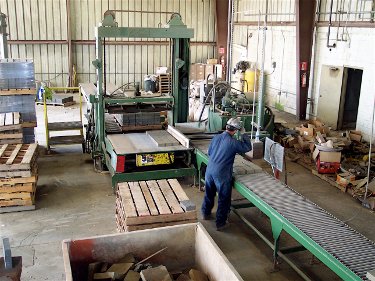 We manufacture our CastleLite pavers in smaller batches than other manufacturers and that is so we can control the quality and the color blends of the materials better. All of our products are made with a combination of the finest aggregates, cements, high quality pigments, admixes and kiln curing process. Unlike other manufacturer's we do not use fly ash in our pavers. Fly Ash dulls the colors of the concrete and is used as a cheap substitute to cement.
In fact, our Prestige Color Series pavers use white architectural cement which enhances the color blends of the concrete pavers to give them a unique appearance from a standard paver.
____________________________________________________________
We Mix It Up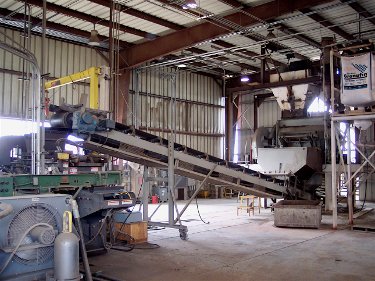 The manufacturing process is a very precise operation with many quality controls to ensure production of a high-quality product. These controls include raw materials, including graded and washed aggregates, portland cement, water, coloring pigments and admixtures. These ingredients are accurately proportioned and thoroughly mixed to form a homogeneous mixture. We require all of our suppliers to provide reports to ensure they provide quality materials to our facility. In order to control the material process, we use a computerized batch panel which repeatedly controls the amount of each material that is placed in the mixer.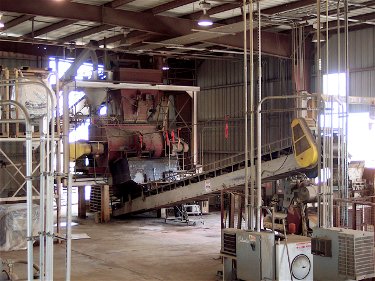 Our CastleLite pavers are made with a low water-cement ratio (the more water added to a mix, the weaker the paver compressive strength) to produce a no-slump concrete with high strength and durability. Admixtures are used to increase strength, reduce mold wear, and reduce efflorescence. Water-repelling ad-mixtures may be added to reduce water absorption by the paver. Super-plasticizers disperse cement grains, permitting water reductions that produce high early strengths in the pavers. Coloring pigments disperse more uniformly in super-plasticized mixes and ensures a more uniform colored paver.
____________________________________________________________
Color is the Difference
The ability to provide a large variety of colors gives concrete paver installers a major advantage over contractors who build other types of pavements. Color in our concrete paver units is controlled by adding pigments to the concrete during mixing. This allows our concrete pavers to have color mixed throughout the block and not just on the surface, like other manufacturer's. Pigments are either organic or inorganic materials batched in a dry powder form. We use inorganic pigments in our concrete pavers, which is more durable than organic pigments. Inorganic pigments are composed of finely ground metal oxides obtained from natural or synthetic metal oxides. The intensity of color in concrete pavers initially increases linearly with an increase in the amount of pigment. Color in pavers is affected by the color of the cement used, water-cement ratio and the curing conditions (which is why we use a kiln system to moisture cure our pavers).
Other's manufacture pavers with a gray core paver and cover the gray paver with a colored face-mix. These pavers are susceptible to chipping and the gray color may show through the paver. Because the color is not mixed throughout the paver, like our pavers are, the colors may fade at a high rate. For these reasons and more, we do not manufacture any face-mix pavers. All of our pavers are a through mix paver, where the color on the surface is the same throughout the entire paver.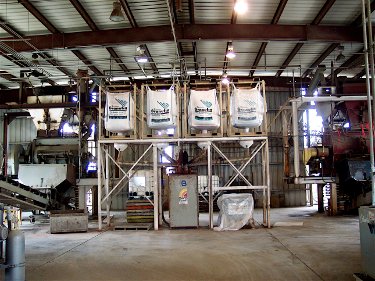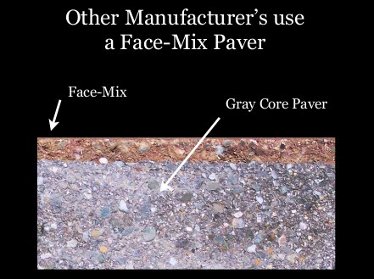 ____________________________________________________________
Curing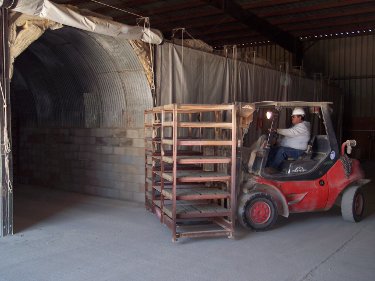 Our concrete pavers are moisture cured for up to 24 hours. Most other manufacturer's store the "green" concrete pavers on the factory floor or in open storage racks that use only the natural heat of hydration for curing. Free water evaporating from the concrete block is the only source of moisture. At CastleLite Block we place the "green" pavers on storage racks and place them in a temperature controlled kiln. We also moisture cure the pavers and use recirculating fans to help provide a uniform temperature distribution and retain moisture from top to bottom of the kiln.
____________________________________________________________
The Final Product
CastleLite Block is unique from other manufacturer's of Concrete Pavers and Hardscape Products. We are the only manufacturer in Northern California that sells direct to the consumer. Our highly trained sales representatives are available to assist you in selecting the right paver for your driveway, sidewalk, walkway, or other landscaping project.
We also offer Factory Installations on all our pavers and retaining wall product in accordance with ICPI standards.
To receive a quote for a Factory Installation, simply click on this "Contact Us" link and fill out the form and a sales representative will contact you within 24 hours.